T-Mobile Galaxy S III hits the FCC, is it launching soon?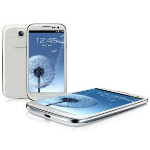 The device that is widely believed to be the T-Mobile variant of the Samsung Galaxy S III has just hit the FCC, which makes us wonder if the T-Mobile variant will be released earlier than the others. The other 3 variants of the Galaxy S III in the US are all expected to have LTE built-in, and Samsung said that the LTE models wouldn't be released until June. However, the T-Mobile model, like the international model, is HSPA+, so does this mean that T-Mobile will see the phone before other US carriers?
It's certainly possible. The device is widely expected to be carrying the T-Mobile codename T999, and a device with that codename has just hit the FCC. Now, we do have to mention that FCC approval doesn't necessarily mean release any time soon (or at all in some cases). While it is possible that the T-Mobile variant would launch at the same time as the other HSPA+ models around the world, it is also possible that Samsung simply submitted this device to the FCC at the same time it submitted the Canadian variant (which would essentially be the same phone), but not intending to release it now.
FEATURED VIDEO
The FCC filing does show that the device has the T-Mobile AWS band supported, but it also has the 850 and 1900 MHz bands supported, which would be for AT&T 3G, but also 3G on Canadian carriers like Rogers, Bell and Telus. Those bands will also come in handy for T-Mobile users later this year as T-Mo has promised to
add the 1900 MHz
band to its HSPA+ network by the end of the year. As some of you pointed out, the iPhone isn't the only device that will benefit from the added bands on T-Mobile, any unlocked device with the 1900 MHz band would work like the Nokia Lumia 900 even.