Survey: Smartphone adoption according to country and sex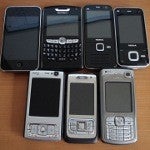 Here comes some food for stereotypes - according to a Nielsen study, only the Russians care more about the phone's design/style rather than anything else when buying one. In fact, in all other places where the sample was taken, consumers are mostly driven by price when purchasing a phone, with India and Brazil the leaders in this category with 40% and 31%, respectively. As for the US, this report says that people are mostly concerned with price (22%), QWERTY input (14%) and design/style (12%).
According to this study, it's only relevant for the young people in Italy that the percent of smartphone adoption (53%) is bigger than the percent of feature phone adoption (47%). Anywhere else, the feature phones are winning among people aged 15-24 - with 62% to 38% in Spain, 64% to 34% in the UK and 67% to 33% in the USA. As for the sexes, the smartphone adoption among the ladies is more prevalent only in the US (55% to 45%) with India at the end of the pack in this category - there, of all young people with smartphones, 80% are boys.
source:
Nielsen
via
Into Mobile