Steam for Android app brings the Steam Community to your fingertips
2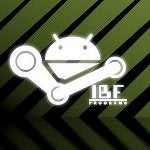 Gamers are surely familiar with
Steam
, the online multiplayer and communications platform developed by Valve software, but if you happen to own an Android powered smartphone, you'll be intrigued to know that a recent app brings the Steam Community to your fingertips.
Back in March 2011, we heard the early whispers of Valve
possibly developing a version of Steam
for iOS and Android, but it seems that the latter is being treated to one right now. Although it isn't necessarily an official app,
Steam for Android
, which is developed by IBF Programs, provides all of the functionality you'd normally expect on your Android smartphone.
Certainly, there are going to be many Steam users who will appreciate the app's usefulness, like being able to check your Steam's public profile, check to see if your friends are online, checking group updates, and even get a quick look at the Steam Specials tab if there are any discounts currently available on the Steam store.
Needless to say, hardcore gamers will especially take a liking to this free app, even though it's not an official app developed by Valve in some way. Nonetheless, if you're interested, you can grab yourself a download through the Android Market right now.
source:
Android Market
via
PocketNow