Stable ColorOS 2.1.3i for the Oppo Find 7 and Find 7a released, air gestures return, power saving, eye protection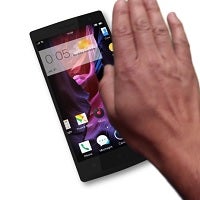 Building on what was a pretty stable Beta
with ColorOS 2.1.2i
about a month ago, Oppo released a stable update, ColorOS
2.1
.3i, which squashes some bugs, and polished up overall operation for the
Find 7
and
Find 7a
.
While the update is more of a bug killing mission, the team at Oppo did enhance the energy saving features a little, brought back a feature that had been removed many moons ago, and added "Eye Protection" mode.
In addition to this update being less power hungry, Oppo updated the power saving mode to actually save the settings when the feature is toggled on or off. Air gestures have returned to ColorOS, allowing users to simply wave their hand to scroll through photos or navigate homescreens, a nice thing to have since the panel on the Find 7 is a bit of a fingerprint magnet.
Eye Protection mode is intended to reduce eye fatigue through user-selected levels of filtering out blue light. The feature can be toggled in the notification center, and blue filtering can be set to low, medium, or high. The setting provides a preview of how you can expect the setting to look on the Find 7's display.
That can prove to be a particularly helpful feature for those that stay up until the all-hours-of-the-night tinkering with their smartphones when they should be trying to get some sleep. Either way, Oppo encourages users to let their eyes rest, as this feature is meant to be supplemental.
Still based on Android 5.0 Lollipop, ColorOS 2.1.3i is available to download and install locally on your Find 7 or Find 7a now. OTA should be pushed out starting Monday. If you perform a local update, be sure to do a back-up first, as the installation will wipe user data from the device.