Sprint takes us to a rooftop in Hell's Kitchen to show what 4G looks like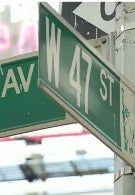 Sprint has interviewed on video its VP of Network and Development, who climbs up on a rooftop in New York's Hell's Kitchen neighborhood, to show some of the 4G equipment that the company is installing.
The most interesting take is that Iyad Tarazi is standing along two cabinets full of wireless networking equipment - the hulking overcrowded one is for the existing 3G standard, and the WiMAX cabinet is half the size, half-full, but carries ten times the capacity of its 3G brethren.
The host of the promo video, a sales manager for Sprint, also hinted that Sprint's 4G coverage in New York City is very, very near. Hundreds of sites like this rooftop are being readied for launch, and even in this very moment you can enjoy some WiMAX signal - he was standing on the corner of 47th and 7th. Now all the
HTC EVO 4G and Samsung Epic 4G
owners can sleep tight in NYC - wireless broadband is coming soon to a rooftop near you.
HTC EVO 4G Specifications
|
Review
Samsung Epic 4G Specifications
|
Review
via
DailyMobile