Sprint leading mobile payment charge…slowly
0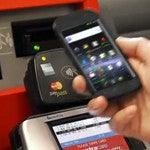 It's a well-known fact that mobile payments
haven't exactly caught fire
just yet. While demonstrations of Google Wallet and descriptions of
ISIS
garner plenty of attention, actual adoption has been slow. Part of this is a chicken and egg dilemma, as phone makers haven't found Near Field Communication (NFC) to be a selling point without more locations accepting mobile payments, while business owners have been slow to purchase the necessary equipment when there are so few NFC-enabled smartphones on the market.
Sprint is stepping up this quarter to lead the slow-moving charge to get more NFC-enabled phones into consumer hands. At CES last week, Sprint tripled the number of smartphones it sells with NFC chips inside (lest you be too impressed, it now offers three models with NFC, up from one this Fall). Still, the LTE Galaxy Nexus LG Viper are likely to be marquee smartphones, and in all probability will greatly increase the number of Spring customers that can take advantage of the new technology. Sprint also
announced
that most of their future LTE smartphones would be NFC-enabled.
Sprint is also accelerating the spread of mobile payment software, allowing the Galaxy Nexus to ship with Google Wallet preinstalled. Verizon put the kibosh on Google's mobile payment software shortly before the phone launched on North America's largest network. Verizon indicated this was due to network conflicts and security issues, but their vague explanations led to many observers feeling like Verizon didn't want to let Google Wallet get a head start on the ISIS mobile payments platform that Verizon is backing. Clever users can
install the program
on their own, but this will surely limit the number of Google Wallet users on Verizon for the time being.
That's not to say that Verizon doesn't want to see more NFC-equipped smartphones. There were demonstrating non-payment uses for NFC, like using your phone as a key fob to unlock your house door. Research in Motion was also demonstrating the benefits of NFC, showing how it could be used to sync with a car's computer, allowing for automatic wireless calling, and automatic updating of preferences with seat position, mirrors, etc.
While banks, software companies, and mobile carriers will likely take a year or two to settle the details of how best to manage mobile payments (and who gets to control the data), it appears that the chicken and egg problem may start to sort itself out. Aside from Sprint's new phones, hardware manufactures Nokia and Motorola both committed to producing several new handsets that are NFC-enabled this year.
So while the financial power brokers bicker over who controls what, it appears that NFC adoption will start to move ahead this year. And as
enough customers
are able to use it, the opportunity will eventually be
too large to ignore
, and someone will rush in to make a business ecosystem to leverage NFC and mobile payments.
In the meantime, the slow charge forward continues…
source:
WSJ