Spotify to hire 130 engineers from the Big Apple to help it compete with Apple, Google and others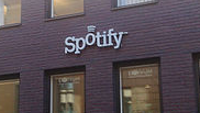 It's all about competition. Stockholm based Spotify, now facing new competition from Google and Apple's streaming music services, has decided to hire
130 engineers
. New York City, looking to become an east coast presence in the tech world, wants to grab those job openings. So New York City Mayor Michael Bloomberg joined with Spotify to announce that the latter will fill those 130 openings, ironically, in the Big Apple. Not only would this raise the head count of Spotify staff to 200, it would mean that the majority of the company would work in the media capital of the world.
In the five years that it has been in business, Spotify has built up a membership of 10 million people, with 2.5 million of them paying for the service. Speaking of paying, Spotify has shelled out $500 million in royalties and licensing fees to the music industry. The service offers streaming music as well as radio stations based on specific artists. The free version of Spotify has listening caps and offers advertising while the paid version gives buyers unlimited listening.
Last month,
Google announced Google Play Music All Access
. If you sign up before the end of the month, the service is $7.99 monthly as opposed to the regular $9.99 rate. Earlier this month,
Apple outed its long-rumored iTunes Radio
which is free to users while being supported by advertisements.
"Spotify's decision to expand and grow here in New York City along with its plan to hire 130 engineers underscores the reasons why we've made such a strong push to increase the ability for students to study science, technology, engineering and mathematics."
-Michael Bloomberg, Mayor, New York City.
"Right now, the environment is such that we really can increase our number of engineers by this much. We hope New York City can become the tech hub for the entire company."
-Graham James, Spotify Spokesman
source:
Forbes