Spotify now lets you create Group Playlists in your Messenger app
2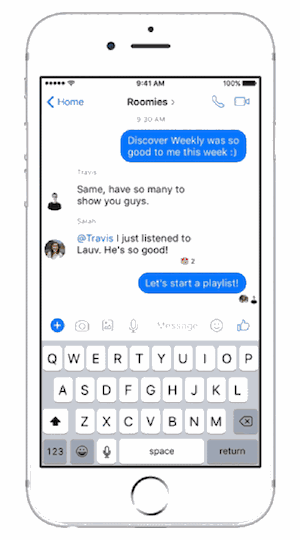 David Marcus, VP of Messaging Products at Facebook,
said at the F8 developer
conference back in April that "Music on Messenger is going to be a good thing this year." Expectations were that Apple Music and Spotify would be integrated with Facebook's app and allow users to share music in different ways. Well, it seems that the statement bore truth, as Spotify has recently launched a feature in Messenger that allows you to create and share playlists with friends, while you chat away on the messaging app.
Group Playlists is a lovely new feature for anyone in all sorts of ways. Say you are planning a road trip or a party, but you are struggling with picking the right mix; or you are the type of sentimental folk, who likes to co-create romantic playlists with your sweetheart. Well, Spotify has provided quite a handy solution to easily co-work on a list with your friends, while they don't even need to have a Spotify subscription in order to add songs.
Creating a playlist and adding songs to it happens all within the Messenger app. All you need to do is tap on the blue "+" button in your chat panel and then open the Spotify extension. The interface then lets you create Group Playlist or share songs.
It is not a groundbreaking update, but is quite thoughtful and useful, if you think about it – we all have friends, who whine about the songs you picked for an occasion, and now they won't have an excuse not to partake in the selection.