Spotify for the iPad is finally here with crossfade and gapless playback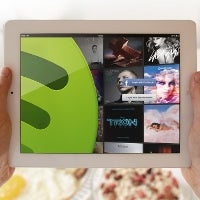 Needn't to say, it's been quite the wait for Spotify to turn up on the world's most popular tablet, but here it is, announced and available for your downloading pleasure at the App Store,
just as predicted
.
Needless to say, there is a brand spanking new tablet-y interface, which has been thoroughly optimized with the high-res display of the new iPad in mind.
The AirPlay integration is an added bonus for those of you who hate the cable snake, and you can visualize the whole system in the Now Playing view, with complete control over your channels and with high definition graphics.
Spotify for iPad also includes crossfade and gapless playback for the next tailgate beach party you set up, as well as universal search by playlists, artists, tracks and so on from the same view.
Trending music and recommended tracks can be retrieved via your friends' connections as well. Check out the promo video below, and head over to the link for the download. The app is free of course, but to use the above goods you have to get a Spotify subscription.