SonyEricsson Blue Torch IBT-20
1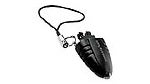 This tiny snap on accessory from SonyEricsson is extremely cheap, and very usefull (at least for me) gadget. I do not intend to do a full blown review on something that costs $7, but I think it deserves some attention.
The torch weights around .17 oz (5g) and comes with a strap used to fasten it to your key chain. It snaps on to the battery socket of almost any Ericsson/SE phone.
The color of the light it emits is the same as of the bluetooth LED of the T68. The illumination is powerfull enoght to light up a small room. I do not think it drains any battery power at all. I had the torch on for about an hour, and my battery meter stayed at full.
I think the IBM-20 is great little gadget, and quite useful I think. I have had it for a week now and I already used it several times. For 7$ (plus around $7 for shipping) you can not go wrong.
Purchase the Torch from SonyEricsson: www.shopwireless.sonyericsson.com