Sony carves out a niche for itself as the premium Android producer
87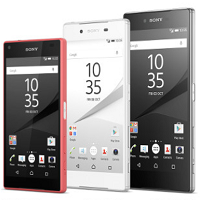 Many manufacturers are having trouble making money with Android. A lot of that is due to the heavy competition that forces margins to be wafer thin. But Sony seems to taking the opposite approach with its just announced Xperia Z5 line. Those who blasted Sony for being unfocused, selling the underwhelming
Sony Xperia Z3+
and Sony Xperia Z4, have had to reconsider their opinion of the manufacturer. No longer will you
hear rumors about Sony selling or spinning off its smartphone business
.
To say that Sony re-energized itself in Berlin would be an understatement. Even though
rumors of the a Sony Xperia Z5 Premium carrying a 4K resolution screen
started leaking out a few days before the announcement, it was easy to be skeptical, especially since The Xperia Z3+ and Xperia Z4 continued to use the same 1080 x 1920 resolution used by Sony dating back to the Sony Xperia Z. But the unveiling of the Xperia Z5 Premium is focusing attention on Sony. And this time, the attention is positive.
As we alluded to at the beginning of this story, based on Sony's website in Europe, the company is pushing a pricing model that has the 32GB
Sony Xperia Z5 Premium
priced at the equivalent of $1062 USD. The
Sony Xperia Z5
is priced at $910 USD with the
Sony Xperia Z5 Compact
listed at $834 USD. And the thing is, Sony doesn't care if the
OnePlus 2
is priced under $400. Sony is not competing with the value producers and is telling the world that it is the premium Android producer.
In other words, Sony has stopped competing for business from those would buy the
OnePlus 2
or the
Motorola Moto X Play
. Sony has carved out a niche for itself, and is looking to do business with those who don't mind spending $800 and up for a handset because they equate a high price with high quality. And while we won't know for a while if the strategy pays off, there are a lot of smartphone fanatics who are talking about Sony for the first time in two years.
source:
Forbes
,
GSMArena