Sony Xperia Z5 Review
99+
UPDATE:

You can now read our Sony Xperia Z5 Premium Review!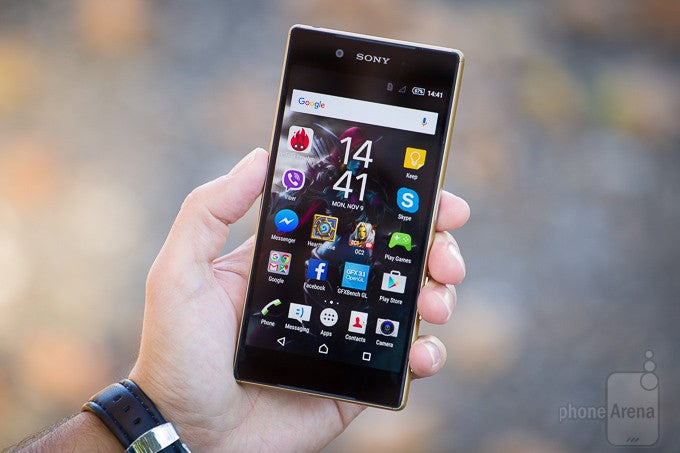 Introduction
Unlike some of its competitors (cough-Samsung-cough-LG), Sony isn't used to flooding the market with products. It likes to take its time and come up with just a few handsets each year: one or two budget phones here, a couple of mid-rangers there, and, if it's a new James Bond movie kind of year – a heavy-hitting flagship for enthusiasts.
Well, what do you know! Agent 007 is back, and so is Sony with a brand new flagship: the
Xperia Z5
.
At first glance, the Z5 is typical Sony – a logical continuation of the company's long-running Xperia Z line. However, is this really the Sony we've been looking for? Are the values of the company, and the characteristic traits of its products alive and well in the Xperia Z5? Is it an example of a thought-out, polished Android smartphone, or is it too little, too late?
We've waited long enough for the Z5, and now, it's time to see if Sony really has something to serve that's not already on the table.
Design
Timeless design with compromised execution.
Certain forms, certain shapes, cannot go out of fashion. And in that line of thought, the Sony Xperia Z5's rectangular shape continues to stand the test of time. It's strict, classy… and different. Very few are the handsets that dare go fully rectangular, and for that reason, the Xperia Z5's shape continues to be recognizable, unique even.
The proportions of the front are almost right, but the upper bezel is ever so slightly higher than the bottom one, so its look is not exactly perfectly balanced. And while that slight imperfection in the appearance may not prove to break the deal for most, the dangerously sharp edges of the Z5's frame probably will. As soon as you hold Sony's latest creation in hand, an unexpected and unprovoked sensation of a sharp object scratching against your skin will take you by surprise. Holding the Xperia Z5 is not a pleasant thing to do unless you put a case on it, so we can't help but wonder how Sony let such an obvious design flaw slip past.
The back panel is now made of what Sony calls "frosted glass". It's basically glass with a matte finish to it, instead of the typical glossy one. It feels very similar to the glass track pad of a MacBook. Its advantage is that it picks up almost no fingerprints, so it always looks relatively clean. Unfortunately, it's also extremely slippery (unlike glossy glass), making us feel unsure if we prefer it that way.
The peculiarities never end with the Xperia Z5's design. If you take a closer look at the images, you'll notice the weird positioning of the volume keys, which are below (not above) the power key on the right hand side. This position doesn't make the buttons any easier to reach or use. In fact, it made them more inconvenient for us. One the plus side, Sony is keeping the two-step camera shutter key, and this one works very well.
And while we're on the topic of buttons – the power key is now also a fingerprint scanner. When it comes to speed and accuracy, it's pretty decent, but its positioning and impact on the seamlessness of the user experience are less than ideal. The button itself doesn't protrude from the surface, and doesn't click reassuringly enough, which is to say it could be designed better.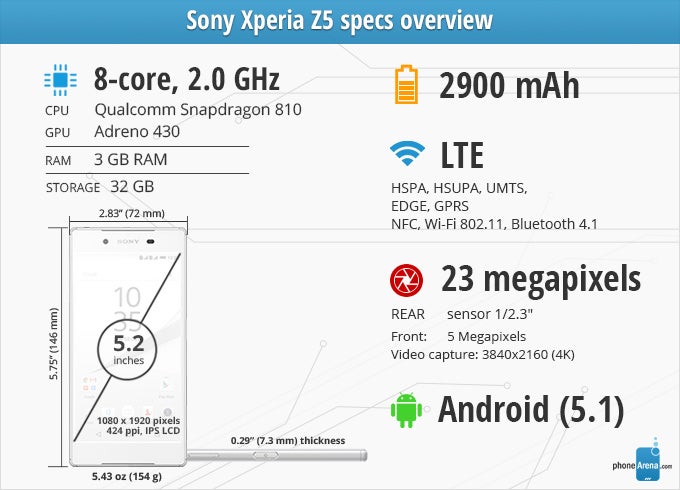 Display
An extraordinarily bright display with so-so color balance.
5.2 inches, 1080 x 1920 pixels, IPS LCD... Sony has to be congratulated for not playing the specs game and sticking with this resolution, because in no way is the Xperia Z5's screen harder to read, in comparison to the 1440 x 2560 screens out there.
Color balance and accuracy, on the other hand, are areas where Sony should have tried a bit harder. The screen has a significant blue tint, taking some of the life away from images. It's not too bad, though, plus Sony is kind enough to let us adjust display color balance from the settings, meaning there's a way to get a more natural-toned image.
Outdoor visibility is excellent with the Sony Xperia Z5. The handset achieves maximum brightness of about 670 nits, which is enough to outshine almost any other phone of that caliber. Meanwhile, the lowest brightness point is at 4 nits, which makes the screen comfortable for bedtime reading.
Display measurements and quality