Sony Xperia XZ2 and XZ2 Compact size comparison vs Galaxy S9, S9+, iPhone X, 8, 8 Plus, LG V30, OnePlus 5T
9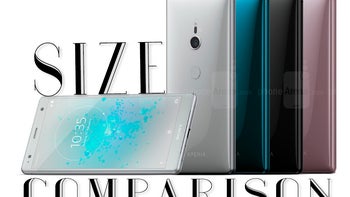 Sony has just announced the latest devices to join its portfolio, the Xperia XZ2 and the XZ2 Compact, two handsets whose purpose is to take the the Japan-based manufacturer up-to-speed with the current trends on the smartphone market. With everyone plotting the total demise of old-school bezels and looking forward to providing users with more display real estate, Sony felt the pressure and finally caved in - the XZ2 looks way more contemporary than any other Xperia before it.
But how does the new XZ2 stack up in terms of size again all the best phones out there, the likes of the new Galaxy S9, the iPhone X, the OnePlus 5T, the LG V30, and the Pixels? With dimensions of 6.02 x 2.83 x 0.44 inches (153 x 72 x 11.1 mm) and a screen-to-body size ratio of 76.28%, it's much more compact than any other Xperia before it, but is this enough to finally make it a viable option for those on the hunt for smaller bezels and more display?
Let's see how the XZ2 compares:
Meanwhile, the surprisingly-thick Xperia XZ2 Compact continues the beloved Sony tradition of super-compact devices, and while it's not as sleek as the XZ2, the 'munchkin' still has lots of charisma to it. Measuring at 5.31 x 2.56 x 0.48 inches (135 x 65 x 12.1 mm) but weighing 5.93 oz (168 g), the XZ2 Compact is a relatively compact device that has some pleasant heft to it. It doesn't boast a very high screen-to-body ratio, but this doesn't mean it's not a great new compact option to consider.
Alas, Xperia XZ1 Compact users that have looked forward to upgrading could be disappointed: the new compact Sony is nowhere it's precursor in overall size. The Xperia XZ2 Compact is slightly taller and a lot thicker and heavier than the XZ1 Compact. Sure, the XZ2 Compact comes with a larger display and marginally larger battery, but it's safe to say that the it is a downgrade over the XZ1 Compact when it comes to the single defining feature of the phone - its overall pocketability and ease of use. However, we wouldn't want to hand out judgment before we've had the chance to spend a few days or weeks with the Sony Xperia XZ2 Compact - who knows, it could end up shattering our slight disappointment.
Okay, we walked you around the basics, here's a visual representation of how the XZ2 Compact stacks up against most of its rivals: