Sony Xperia XA1 and XA1 Ultra: all the official images
0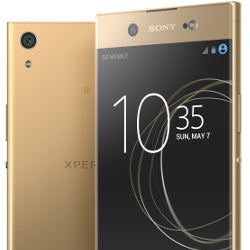 Bezels, lots and lots of bezels! We can't really agree with Sony when it lists the new
Xperia XA1
and XA1 Ultra as having "borderless
edge
-to-edge" design, given what LG did with the newly-minted
G6
, or what Samsung and Apple are expected to do this year with their flagships. Don't believe us? Just look at the two phones' official images below, and marvel at that top and bottom bezels which get in the way of a good screen-to-body ratio.
The XA1 is the more humble of the duo, with a 5" HD display, octa-core MediaTek processor, and 3 GB RAM. It does throw in a 23 MP camera and 8 MP frontal shooters, though, as well as fast charging. The XA1 Ultra steps it up a notch with a 6" 1080p display, powerful octa-core MediaTek
P20
processor, coupled with 4 GB RAM, 23 MP camera with optical stabilization, and a 16 MP selfie shooter. The phones are most likely destined for the Asian market, and thus Sony does say that the golden XA1 will be "region-specific," while the XA1 Ultra in gold you can preview from the official images below.