Sony Xperia SL is an Xperia S upgrade, to come in pink and blue
6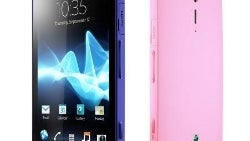 That
Sony Xperia SL that leaked from the Indonesian Ministry of Information and Technology
? Listed as LT26ii, it seemed to be just an upgrade to the
Xperia S
, which is LT26i.
Now we have some more confirmation what exactly the upgrade will be, and it seems that, besides the CPU overclock to 1.7GHz from 1.5GHz, we'll get a couple of new color schemes too.
The Xperia S is available in black and white, but the Xperia SL will be coming in those nice blue and pink colors you see on the pictures, upping its street cred. Sony did a similar thing last year with the
Xperia arc
, releasing an overclocked
Xperia arc S
with a different color scheme.
Well, it's one way to breathe new life into an existing handset, and we'll keep an eye if there will be any price premium over the Xperia S when the SL lands on shelves.