Sony Xperia S beats the HTC One X in a sleep-to-snap camera speed contest (video)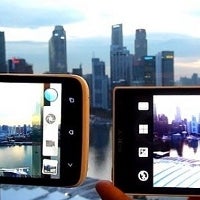 Both the
Sony Xperia S
and the
HTC One X
claim sub-second focus and shoot times, similar to the zippy iPhone 4S, but who would be the fastest in actual everyday usage?
Not surprisingly, the Sony Xperia S with its dedicated shutter button can beat them all, as it goes from a turned off screen to taking a picture quicker, eliminating the need to unlock the screen first.
The One X also gets measured against the Galaxy Nexus, which claims "zero shutter lag" in-between shots, but the 4 shots per second burst mode of the One X can hardly be beat, especially when we also consider that the constant pumping of the finger on the Nexus screen made its shots blurry.