Sony Ericsson 'Paris' is the next high-end smartphone?
6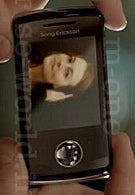 Last week, leaked the first information on what was called the 'Paris'. We were skeptics as the source said they have an official video, yet will publish only one image (screenshot). Coming from a video, it was blurry and looked as one that could have been faked.
Now, another Sony Ericsson fan site published second picture of the same device, so things are getting serious.
The Paris is not only about looks, it is also about features. As other UIQ3.3 phones will come preloaded with Opera 9.5 browser, which should run great using 3G HSDPA or WIFi as data source. It also has built-in GPS and will come factory loaded with Google Maps and probably WayFinder 7.
source:
SE-NSE