Snapchat announces Snap Games and Snap Originals programs, Lens improvements
4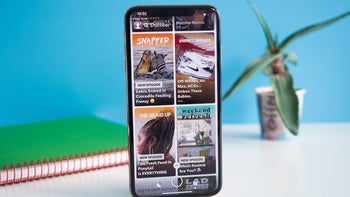 Snap, the company behind the
Snapchat
social network and services, announced earlier today a host of new features that will come to its mobile apps in the coming weeks. During its Snap Partner Summit, the social network company revealed two new programs that will be available to all Snapchat users, Snap Games, and Snap Originals.
Another major announcement concerns important improvements to the popular Snap Lenses. Also, a new set of development tools grouped together as Snap Kit, which will allow developers to include Snapchat functionality directly in their apps.
But let's start with the first major feature that Snapchat users will be given access to very soon: Snap Games. The new feature will be available right from the Chat bar within the Snapchat app on Android and iOS devices.
What's really interesting about Snap Games is that you won't have to install anything. Also, you'll be able to see all your friends who are playing games, send them a message, play with them instantly and even talk like with voice chat.
Initially, Snap Games will be available with six mobile games: Bitmoji Party, Tiny Royale, Snake Squad, C.A.T.S. Drift Race, Zombie Rescue Squad, and Alphabear Hustle. Since Snap Games will begin rolling out for Android smartphones and iPhones today, you can expect to be able to check out the new feature very soon.
Snapchat starts offering original shows watchable on the go
Snap Originals is a series of shows such as documentaries, comedies, and teen dramas, which, as the name suggests, will be original. Snap also mentions that this original content will clearly stand out from the rest because of the way they're told: "they're personal, intimate, and made for the way you use your phone today."
No less than 10 shows will be available at launch for those who want to check out Snap Originals: Two Sides, Can't Talk Now, Sneakerheads, Commanders, Denton's Death Date, While Black, BuzzFeed, Dead of Night, Compton Dreams, and Stranded with Sam and Colby.
The new Snap Originals will be available starting this week, but more series will be added in the coming months. Remember that you can watch these shows anywhere you are directly from your smartphone, as long as you have access to the internet.
Snapchat Lenses get upgraded to the next level

As far as the Lenses go, Snap announced that in just over a year after the feature was made available to users, more than 400,000 Lenses have been created by the Snapchat community. Moreover, users have played over 15 billion times with these Lenses.

To advance Lenses to the next level, Snap announced the addition of Creator Profiles, a new way to help Lens Creators to showcase their work and learn more about their audience.

Also, Snap introduced an easier method to find the right Lenses when you need them. Simply press and hold on your camera screen to scan the world around you. For example, you can scan a math problem to get the answer, or a product to see it listed on Amazon and learn about its price. You can even scan your dog to give it glasses, or a song to see who sings it.

Last but not least, Lens Studio has been updated to include more templates for those creators who prefer augmented reality over traditional Lenses, including Landmarkers. The update adds new templates for hand-tracking, body-tracking, and more, which can be used to create Lenses that might pop up when Snapchat users use Scan.




But there are more changes coming to Snapchat, such as App Stories, which allow users to share content directly from the Snapchat camera to a Story inside another app. And for creators, there are a few new kits that will allow them to share their custom stickers from their favorite services directly on a Snap.

The Creative Kit, Bitmoji Kit, and Ad Kit are now available for creators, each allowing Snapchat users to interact easier than ever with customized Snaps.

As mentioned earlier, all features announced today by Snap will be available starting this week, but some Snap Originals shows will go live in the coming months.