Skype drops Highlights feature to focus on calls, video chats and messages
2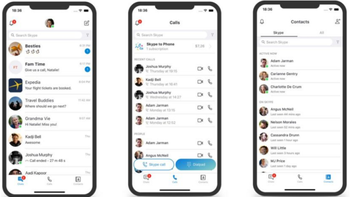 Microsoft's mobile Skype app is recommitting itself to phone calls, video chats and messages. As a result, it is dropping the Highlights feature. To de-clutter the UI, there will be three buttons at the bottom of the app, Chats, Calls, and Contacts. Highlights and Capture will be removed. Highlights was similar to Stories on Instagram and Snapchat, but "didn't resonate with a majority of users," according to Skype. Those who used Highlights will be able to download all of the posts they put up on the site until September 30th.
The new UI is available on version 8.29 for both the Android and iOS variants of Skype, found in the Google Play Store and Apple App Store respectively. And Microsoft has launched a new website called Skype Ideas where you can submit your ideas for the Skype app. You can tell Microsoft how you think Skype can be improved by clicking on this
link
. Your ideas get listed on the site where community members can vote on them.
Peter Skillman, Skype's director of design, says that we can expect more updates to Skype over the next several months as the app focuses on calling, chat, and contacts. The executive says that the Skype team is "passionate about bringing you closer to the people in your life." If you've yet to install the Skype app on your Android or iOS device, click on the appropriate link: (
iOS
|
Android
)
"To develop these designs, our team worked closely with Skype customers. We looked at how people use Skype apps, performing extensive testing across global markets and building prototypes to test new concepts. We also created a UserVoice site so you can vote on the feature changes you want us to prioritize. While we have plenty of work left to do, we hope you find these changes simplify your experience and bring you closer to those who matter."-Peter Skillman, Director of Design, Skype
At the same time that the app is being updated, you can expect to see similar changes taking place to the desktop version of Skype.
source: Skype