Siri sees intermittent outages - too much turkey over the holiday weekend?
24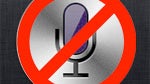 It appears that Siri, Apple's new personal assistant on the
iPhone 4S
, has taken the day off on some people's handsets. Outages were reported in parts of Europe and Korea. The problem doesn't appear to be universal, and it's unclear what may be causing the service disruption.
Siri doesn't just reside on your phone; it actually
gets information and personality from Apple's data centers
, like the one they built in North Carolina. Requests are processed and sent back, so network issues, server problems, or just trying to use it in an area with poor wireless coverage can cause problems.
This isn't the first time Siri has had trouble showing up for work – there have been several smaller outage and at least one
large-scale U.S. failure
of service in the past. Apple generally doesn't comment on Siri work stoppages, although consumer representatives have indicated that local network failures could be responsible for some of the problems seen today.
Anyone having problems with their digital assistant?
source:
Electric Pig