Siemens mobile announces five new US-specific mobile phones
0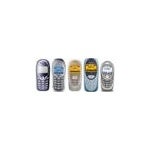 Siemens mobile in New York today launched five new US specific mobile phones, ranging from the voice-centric A56 and dynamic M46 with personalization options, to the entertainment-rich CT56 and C56, through to the S56 with color display, Multi Media Messaging (MMS) capability and attachable camera. The US products are the confirmation of Siemens mobile's aggressive strategy to gain share of the fast growing North American mobile GSM* market, which is predicted to expand by 50 percent to 200 million subscribers by 2006**. Siemens mobile also announced today that the US mobile operator Cingular Wireless is to buy a variety of GSM handsets from Europe's number two mobile manufacturer, starting with the CT56, designed exclusively for Cingular. Additionally, T-Mobile USA will be the exclusive US provider of the M46. Also launched today was a European variant of the S56, the S55, demonstrating Siemens' localized approach to growing its global brand.
Spearheading the shift to GSM is at the heart of Siemens mobile's strategy. With two of North America's biggest mobile operators – AT&T Wireless and Cingular Wireless, both of which are already selling Siemens handsets – currently shifting from TDMA to GSM, and five new US-specific GSM products launched within the next six months Siemens mobile is perfectly positioned to take advantage of the increasing demand for GSM
Adding to this momentum is the relationship with T-Mobile USA, who operates the largest all digital GSM/GPRS voice and high speed data network in the U.S., covering over 8,000 cities.
Commenting on the Cingular deal, Stephen Carter, President and CEO of Cingular Wireless, said: "GSM is clearly the world's choice for wireless technology, accounting for two thirds of all worldwide mobile subscriptions. Teaming up with one of the leading GSM suppliers will allow Cingular´s customers to always choose from the latest in design and features."
Both the S56 and its European variant, the S55, incorporate Bluetooth™ technology and an attachable camera with an integrated flash. The S55 is also tri-band, enabling consumers to make calls from almost anywhere in the world.
"With GSM really taking off here we genuinely believe we can replicate our European and Asian success in North America. On the same day that we launch our first MMS handset for the European market I am pleased to deliver on our promise to become a major mobile phone player in the US. With the S40, S46 and SX56 on offer already, the new products dramatically expand our US portfolio making us a full-line supplier of products specially designed for the US market", says Rudi Lamprecht, member of the Managing Board at Siemens AG. "This is the beginning of exciting new times for Siemens mobile in North America."

Source:
Siemens.com