Super sweet Target deal saves you $450 on the Pixel 3 or Pixel 3 XL
1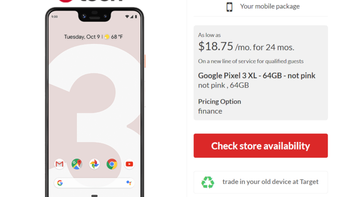 If you're looking for a sweet deal on the
Google Pixel 3
or
Pixel 3 XL
, Target is where you need to go. If you are a new Verizon customer or an existing one with an upgrade, you can grab a $450 discount on either phone. The
64GB Pixel 3 XL
drops in price from $899.99 to $449.99. Since you must purchase this using Big Red's Device Payment plan, you'll receive the $450 as a monthly bill credit which will reduce your cost to $18.75 a month over 24 months. That is an outrageous price for the Pixel 3 XL, which is available in Black and Not Pink.
The
64GB Pixel 3
is reduced from $799.99 to $349.99, and that takes your monthly payments down to $14.59 a month over 24 months. The same color options are available. For those who would rather hear the percentages for some reason, the Pixel 3 XL deal takes 50% off the regular retail price, and the Pixel 3 discount comes out to 56%.
But there is more. Verizon has a deal that takes $300 off the price of the Pixel 3 in the form of 24 monthly bill credits with an upgrade (the discount is $400 if a new line is added). According to one Verizon subscriber, he believes that he was able to stack the Target deal with the Verizon credit and will end up paying just $50 (plus tax and activation charges) for a Pixel 3. He won't know for sure until the bill credits start hitting his account in a couple of months, but in the past he was able to stack two bill credit deals together.
Even if Verizon gets wise to this and doesn't allow both bill credits to go through, the Target deal alone gets you the Pixel 3 or Pixel 3 XL at an unheard of price.