Samsung targets the elderly with their Wise Classic and Wise Modern handsets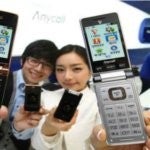 Already known to cater to the elderly with their
Jitterbug phones
, Samsung is once again at the helm in this specialized category with two inviting phones that take aim at the needs of the older population.
Samsung announced today in South Korea the availability of both the
Samsung Wise Classic
(SHC-Z100S) and the
Wise Modern
(SHC-Z140S/SHW-A240S) phones that are primarily
targeted for the elderly
. Taking a close look at them, it doesn't surprise anyone about their target demographic since they employ conveniences that are akin for senior citizens because of their simple design and usage.
Surprisingly, we find a diamond-looking pattern with the Samsung Wise Classic and features a 2.6" internal display, 2.2" external display, 3-megapixel camera, music player, and a microSD card slot. On the other hand, we have the Samsung Wise Modern that has two variants – one being a simple 2G device, while the other offering 3G connectivity. It features a 2.6" internal display, 1.77" external display, 2-megapixel camera, built-in pedometer, FM radio, microSD card slot, and a dedicated shortcut button.
For those interested in either phone, the Samsung Wise Classic retails for
500,000 won ($449)
and the Wise Modern is selling for
400,000 won ($359)
.
via
Samsung Hub