Samsung signs James Franco for its newest Galaxy Note 10.1 ad, getting more celebrities on board
36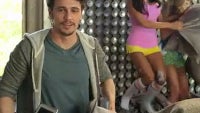 A couple of months ago Apple started it with its ads focusing around Siri for the iPhone 4S, and now Samsung is doing it. Did it copy? Let's not transplant the tough ongoing legal battle between the two in advertizing. What we're talking about here is simply an approach - hiring celebrities for its ads, and after yesterday Samsung teased the upcoming Galaxy Note II with a brilliant ad featuring renowned director Wim Wenders, now it's promoting its multitasking extraordinaire, the
Galaxy Note 10.1
tablet with the cheerful and funny James Franco.
Franco stars in a pretty hilarious act where he's shown multitasking between a pillow fight and solving mathematical equations, all with the Galaxy Note 10.1 along. The actor known for movies like Spider Man, will definitely give the Note 10.1 a special kind of appeal. The ad itself doesn't focus much on the hardware and specs but on features. And that's good - after all Apple has got the edge with its unmatched Retina display iPad.
Check out the ad below to let us know whether Franco's charm has convinced you to overlook those specs and actually try to multitask with the Note 10.1!
source:
SamsungMOBILE
Recommended Stories