Samsung set to announce Galaxy Gear 2 and Galaxy Band at MWC
20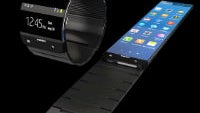 Early on after the release of the Samsung Galaxy Gear smartwatch, we knew that the device was essentially a public beta product and the assumption was that Samsung would be releasing a new version of the hardware in early 2014. The best guess put the announcement around Mobile World Congress (MWC), scheduled for late February in Barcelona, because that is also the time frame assumed for the Samsung Galaxy S5 announcement.
A new report from
The Korean Herald
seems to be confirming our assumptions. A source for the outlet is saying that Samsung is preparing the Galaxy Gear 2 and "it's a high possibility" that the device will be unveiled at MWC in February. There isn't a lot of information to be had about the Gear 2, but it is expected to feature a flexible display. The source is also saying that Samsung is getting ready to announce the Galaxy Band, which will be a health and fitness tracker in the vein of FitBit or Nike FuelBand.
No word on when the devices will be released, but Lee Seung-woo, an analyst at IBK Securities, is confident that the device will be "released early next year". Our bet is that when we get a release date for the Galaxy S5, we'll get the release date for the Gear 2 as well.
Recommended Stories