Samsung reports a year-over-year decline in Q1 operating profits
20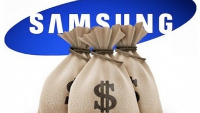 On Tuesday morning, Samsung reported a first quarter operating profit that was 3.3% below last year's figure. The Korean based company reported an operating profit of 8.5 trillion Korean Won ($8.2 billion USD) for the three months ended in March. Samsung's mobile division reported operating profits of 6.43 trillion Won ($6.2 billion USD) in the first quarter, down 1.2% from the 6.51 trillion Won ($6.3 billion USD) in mobile operating profit reported by Samsung last year. On a sequential basis, mobile operating profits rose 19% from the 5.47 trillion Won ($5.3 billion) made by the Korean manufacturer in last year's fourth quarter.
The biggest smartphone maker on the planet was hurt by a market that was generating lower margins. As models like the
Samsung Galaxy S4
got long in the tooth, it negatively affected margins in the first three months of the year. The second quarter should benefit from the release of the
Samsung Galaxy S5
, which was launched during the current three month period that runs through June. Samsung should be able to take advantage of the higher profit margins that come with the start of a new flagship product cycle.
Instead of focusing on high-end, high-margin smartphones, Samsung is beginning to sell low margin, cheaper handsets in emerging markets. But these models are facing tough competition from Chinese manufacturers. And if Apple launches larger-screened iPhone models later this year as expected, it could have a negative impact on sales of Sammy's high-end models.
"Orders for display panels that are used for premium smartphones and TVs are expected to increase, as new mobile devices are rolled out into the market and as consumers look forward to the upcoming World Cup in Brazil."-Samsung
Samsung sees a positive impact on high-end smartphone sales due to the upcoming World Cup in Brazil. In June, we could see
the launch of the Samsung KQ, a premium version of the Samsung Galaxy S5
with a metal body and a 1440 x 2560 resolution screen. In the third quarter, the next iteration of Samsung's phablet is due to launch with a new form factor that
could include a flexible, three-sided screen
. There could be plenty of innovation to spur higher earnings for Samsung's mobile division for the remainder of the year, as long as it isnt squeezed by Apple on the high-end, and Chinese producers on the low-end.
source:
Reuters