Samsung mocks the iPhone 6 in new Galaxy S6 edge promo videos
99+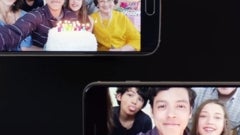 Samsung just posted two new promo videos that compare the
Galaxy S6 edge
to the
Apple iPhone 6
. Both videos have the same conclusion: the Galaxy S6 edge is "greater" than Apple's handset, as "not all smartphones are created equal."
In the first video, Samsung shows what the edge of its new Galaxy can do: thanks to the curved display that's covering it, the device's edge can shows various colors when your favorite contacts are calling, in addition to displaying text messages, news, weather information, and so on. At the same time, as Samsung is quick to point out, the edge of the iPhone 6 shows "nothing," but at least it "has a vibrate function."
The second video reminds us that the Galaxy S6 edge features built-in wireless charging and a wide-angle front-facing camera, both of which are obviously not included on the iPhone 6.
We're not sure what Apple will think after seeing Samsung's new videos, but to everyone loving technology first, and brands second, they should be fun to watch. Take a look below: