Samsung introduces Galaxy Pocket Duos, pushing the low-end Android dual-SIM boundaries
1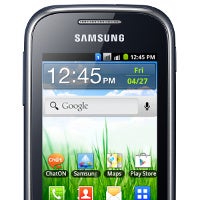 Samsung has been one of the most prolific Android smartphone makers - covering everything from state-of-the-art high-end devices to the lowest of low-end affordable smartphones and this here
newly introduced Samsung Galaxy Pocket Duos
proves that Samsung will continue offering users variety in all forms and shapes. The Galaxy Pocket Duos is a dual-SIM version of the Galaxy Pocket, a 2.8-inch Android device announced nearly half a year ago that immediately became the cheapest smartphone available from such a recognized name like Samsung.
The
Pocket Duos strays little from the original
. It sports the same 2.8-inch QVGA display, a 2-megapixel camera, Wi-Fi connectivity, and a 832MHz single-core processor. The internal storage is 3GB and it is expandable via microSD cards of up to 32GB. Finally, Android is at version 2.3 Gingerbread on the device, with no update plans in tow.
Of course, all those characteristics are what allow the Samsung Galaxy Pocket Duos to be extremely cheap. We guess it would build on the success of the original Pocket and prove popular in developing markets where two SIMs translate into big money savings and prices matter more than specs.
source:
Samsung