Samsung i300 featuring 3 GB hard drive was approved by FCC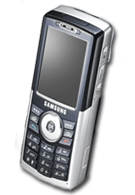 Samsung SGH-i300 was just approved by FCC. Earlier this year Samsung announced that the i300 would be available in Europe in Q3 2005. Since it now already has the FCC approval, it can also be sold in the US, too. Still, there is no official information about this.
The SGH-i300 is a 3GB HDD embedded music smartphone running on Windows Mobile operating system. It is Plug-and-Play device which can act as a removable hard drive. Its storage can be extended by adding a T-Flash (microSD) card to it. The built-in hard drive can to store up to 1,000 music files which can be played through the stereo speakers, featuring 3D sound.
Main specifications:

3GB Hard drive plus T-Flash (microSD) card
Stereo speakers for 3D Sound
1.3 megapixel camera with video capture
262 000 color, 320x240 display
Windows Mobile OS
Bluetooth, IrDA, and USB 2.0
Samsung SGH-i300 Complete Specification
Source: FCC