Samsung confirms that Gear smartwatch will eventually work with non Galaxy smartphones
13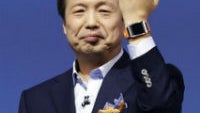 As we all know, Samsung is a company that doesn't believe in such a thing as "feature bloat", and to an extent, that is why we like the
Samsung Galaxy Gear
smartwatch. While those features will have an adverse effect on the battery life, the major issue we have with the Gear is in compatibility. At launch, the only device that will support pairing with Gear is the Galaxy Note 3, but Samsung has confirmed it won't always be that way.
During the
announcement
, Samsung did say that there would be software updates coming to the Samsung Galaxy S III, S4, and Note II, which will expand Galaxy Gear compatibility to those devices, but the company has confirmed that it will eventually bring compatibility to non-Samsung smartphones. Apparently, one major point is Bluetooth 4.0 low-energy compatibility. Many manufacturers have built-in the capability for Bluetooth LE, but Samsung says the Gear works with the support in Android 4.3.
Of course, that leads to a question of why the Gear wouldn't work with the Nexus 4, Galaxy Nexus, or one of the Google Edition devices. The answer there is that there are some special programming interfaces built-into the Note 3 to allow for more advanced functionality between the Gear and Note 3 (we're assuming that refers to Samsung's Smart Relay feature.)
But, Samsung director of product marketing Ryan Bidan said that Samsung is "looking for additional devices to support it", and that support for more devices will come in time, but at first you will need a Galaxy Note 3.
Recommended Stories