Samsung announces the Galaxy Gear smartwatch: a companion to your Note 3 for $299
78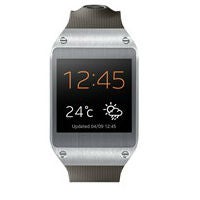 Samsung has finally announced the Samsung Galaxy Gear smartwatch, and we're happy to report that it does not look exactly like
the leak
we saw last week. The design of the Gear is similar to what we saw, but the bezels are tapered, so it doesn't look quite as big, and what had been a matte plastic, now looks to be a polished chrome finish. There are still the odd screws on the bezel though. The Gear also isn't nearly as big as rumors had said. The Gear has just a 1.63-inch square Super AMOLED display at 320x320 pixels.
Galaxy Companion
Samsung is marketing the Gear as "the perfect companion to your Note 3". As we have heard before, the Galaxy Gear will be able to work with your Samsung smartphone for easy access to notifications, and other features, but the Gear will only be compatible with Galaxy smartphones. It will be compatible with the Note 3 out of the box, and there will be software updates for other Galaxy smartphones to add compatibility. The Gear will show you incoming messages, such as calls, texts, emails and alerts, delivers a preview of those messages, and then allow you to dig deeper or get rid of the message. But, the real power comes from Samsung's Smart Relay feature.
Smart Relay basically takes whatever is on the screen of your Galaxy Gear and automatically transfers it to your Galaxy smartphone when you unlock your device. So, if you're looking at a notification on your Gear, and you unlock your Note 3, that notification will automatically expand on your smartphone. Or whatever contact you are viewing on your Gear will automatically appear when you unlock your phone, so you can choose to call or message that contact.
Galaxy Gear will feature a number of S Voice commands for you to easily initiate different functions. As you would expect, you can use the voice commands to initiate a call, and you will be able to have the entire call run through the Gear using its built in speakers and microphone, so you can feel like a super-spy, speaking to your wrist, and you can answer a call simply by raising your Gear to your head. The speakers and microphone are placed on the bottom of the strap, rather than near the watch itself.
Additionally, you can create a Voice Memo, draft messages, create new calendar entries, set alarms, and check the weather using voice commands. There are extra features to connect the Gear to your smartphone as well. One of our favorites is that anytime your Gear moves more than 1.5 meters from your phone, it will automatically lock your smartphone.
Standalone functionality
Before we forget, the Galaxy Gear is a smartwatch, so obviously you'll be able to tell the time. Additionally, there are options to help you find your device, and control music from the Gear screen. Also as we heard before, Samsung is positioning the Galaxy Gear as a health-tracking companion device. It comes preloaded with an S Health app, and will act as a pedometer, though not a heart-rate monitor as we had heard before.
There is also a 1.9MP camera on the Gear with auto-focus and Smart Shot options. The camera is located on the outside part of the wrist strap below your pinky, so it's very easy to get a picture. Just a simple swipe will open the camera, and a tap takes a picture. Photos can then be shared through social networks or messaging. You will also be able to take short 720p video.
As we expected, Samsung has also set up a Gear app store, which comes with a number of apps right out of the box. Samsung says there will be about 70 apps eventually and about 12 at launch. Some of the featured apps are:
Banjo: which aggregates social updates to bring you trending stories
Evernote note taking app
Glympse for location sharing
eBay
Line messaging
MyFitnessPal nutrition and exercise tracking
Path social network
Pocket read-it-later app
RunKeeper exercise tracking
TripIt for travel plan organization
Vivino Wine Scanner which lets you take a picture of a bottle of wine to get info on it
That's a lot of functionality in a very small package, and Samsung says that you should expect "about a day" of battery life, but it's unclear if that means a calendar day or a work day, which are very different things. The spec sheet says the battery is just 315mAh, but it's hard to say what to expect from that. The Gear also has 4GB of storage, 512MB of RAM and an 800MHz processor.
Samsung Galaxy Gear will launch "later this month" in most regions, and in early October in the U.S. and Japan. The Galaxy Gear will cost $299 in the U.S..