Samsung Galaxy Gear hands-on
37
It's not the first time we're seeing a big name company attack the smartwatch segment, but we have yet to see one reach that elusive stardom status. Samsung is hoping to get consumers drooling over its offering, the aptly named Samsung Galaxy Gear, which really delivers that Dick Tracey watch experience with the combination of its dedicated and companion functions. It's one thing to relish over something that's seen through photo renders and whatnot, but it's an entirely different thing when it's actually seen up close and personal in real life. Well folks, we got some quality time checking out this sweet, sweet piece of bling.
Design:
Are our eyes deceiving us or something? Because at first glance, we're hard pressed to believe that this smartwatch is something designed by Samsung – the company notoriously known to utilize plastic time after time with its smartphones' casings. It funny, just because the Galaxy Gear's design doesn't center around the concept of a smartphone first, but rather, its basis follows the pattern of a quality timepiece. With the majority of its casing consisting of polished stainless steel, which contours our wrist, we're amazed by the premium element attached to this – a surprising revelation considering this is Samsung we're talking about. Yeah, the body of the Galaxy Gear is nearly double the thickness of most watches, but it's something expected seeing that it's packing some serious tech under the hood.
As for the wrist strap, it's actually adjustable to fit pretty much any wrist size – and it stays in place as the strap is locked. Even though it's not uniform with its stainless steel housing, the strap is still sturdy with its tough plastic feel. At the end of the day, we really have to applaud Samsung with this one, since they've done a fantastic job in making one heck of a polished looking piece of wearable technology. It doesn't look campy or knockoff-ish, which is a pleasant thing to find no doubt.
Display:
Whereas the design of the Galaxy Gear is so unlike Samsung, the display on here is typical Samsung. So what do we have? It's none other than a 1.63-inch 320 x 320 Super AMOLED display, the same exact panel technology used by many of its smartphones. The more we think about it, the more it made us realize that the AMOLED panel was the right choice for this. In fact, seeing that it's a watch at heart used for time keeping, the deep black color that the AMOLED panel is able to muster up is perfect in giving enough contrast to what it shows. Well, let's note that we're checking out the smartwatch indoors, which gives it that nice glow to everything – albeit, we're a bit hesitant about its visibility outdoors with the sun present.
And did we mention it's a touchscreen too? It works really well from what we can gather, as every touch, taps, and swipes are all registered properly. Since there's only a single button on the right side of the Galaxy Gear to turn it on, Samsung decided to utilize a swipe gesture from the top bezel down to perform a "
back
" function. It works just as expected. Seriously, the screen is the shining gem in the entire system that gets people to ask questions about it.
Interface:
Even though it's meant to be a companion device to the Samsung Galaxy Note 3, and to many other Galaxy branded devices in the near future, the Galaxy Gear can still be used independently – though, its functionality is limited to a few things if it's used that way. Taking a look around at the interface that's running on the Galaxy Gear, we'll say that it's simple and intuitive, as things are broken down to different categories. Swiping left/right cycles though all of them, while tapping on one brings us down a level.
While it's paired to a Samsung Galaxy Note 3, the Galaxy Gear is capable of receiving notification, accepting phone calls seeing that it packs a microphone and speakerphone, and running some other apps. In addition, it features some smart functions as well, where it interacts with the Galaxy Note 3. For example, we can use the Galaxy Gear to locate a lost or missing Galaxy Note 3 – well, as long as it's within Bluetooth connectivity range. Working like a charm, the app on the Galaxy Gear sends a signal for the Note 3 to ring and vibrate. Quickly glazing over the Galaxy Gear's features set, there's a huge chunk in us that comes off as impressed with what it offers. We seriously feel it has a good chance of giving consumers a discrete way of interacting with our smartphones.
Processor and Memory:
Under the hood, the Samsung Galaxy Gear is powered by an 800MHz processor – a figure that was once viewed as speedy several years ago. However, considering that the software isn't complex or anything, it doesn't require much processing power to operate smoothly. In fact, we're glad to report it runs effectively with everything!
Camera:
Adding more worth to its cause, the Galaxy Gear also somehow packs along a camera too – a measly sized 1.9-megapixel one that's incorporated into the wrist strap. Based on the number figure alone, it's not going to impress people and all, but still, it's worth mentioning that it features auto-focus, a backside illuminated sensor, and 720p video recording. Yes people, you can now be a secret spy with the Galaxy Gear, as the photo taking process is quite discrete. Obviously, we can't comment on its quality right now until a final production unit is available for us to check out more in depth. Regardless of that, it's just mind-boggling that this can also take photos and videos – in addition to all of the other cool stuff it's already able to do!
Release Date, Price and Expectations:
At Samsung's press event, it was mentioned that the Galaxy Gear, along with the Galaxy Note 3, will go on sale in more than 140 countries around the world starting this September 25th. Pricing in the US is slated for $299 when it launches, which is hard to say with enough certainty right now, if it's a good investment or not. Naturally, it won't require any contracts or anything like that – it's just like buying any premium watch. However, unlike those timeless masterpieces sold in retail stores behind glass cases, the Samsung Galaxy Gear is a unique offering that perfectly combines the classic design of various time pieces, but it's also splashed with some cool smartphone-like tech in it. Can we say it's the best of both worlds? Maybe. Well, there's still the matter of battery life, which Samsung states as offering "
about a day
" – a figure that can mean so many different things.
Samsung Galaxy Gear hands-on photos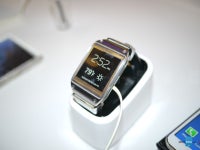 Samsung Galaxy Gear screenshots.