Samsung announces LTE Galaxy Note 10.1 due on Verizon this month
10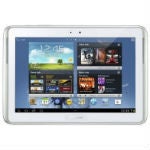 Samsung has been running through a ton of products in its
CES keynote
today, but one announcement of note (no pun ever intended, ever ever) for our mobile fans is the announcement that the Samsung
Galaxy Note 10
.1 is coming to Verizon this month and will be fully equipped with 4G LTE and more.
The announcement was extremely fast and light on details, but what we do know is that the Galaxy Note 10.1 will not only have an LTE radio inside, but it will have Android Jelly Bean (we're assuming 4.1, not
4.2
) installed as well as the Samsung Premium Suite of software, if you're into that sort of thing.
No word on pricing or when exactly the tablet will hit Verizon stores.
source: Samsung