Is the smartphone bubble ready to pop?
11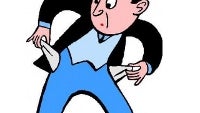 Smartphone sales have grown sharply over the last few years to the point where
over 50% of U.S. cellphone owners
now are sporting a smartphone. What will it take to get the remaining half to make the switch? With smartphone penetration already above 50%, some feel that there is nowhere for smartphones to go but down in the U.S. Even globally, smartphones now account for more than half of cellphone shipments.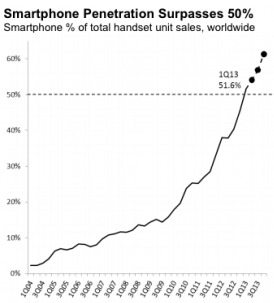 Penetration of smartphones has exceeded 50% globally
Besides the possibility of smartphone sales peaking in the U.S., European smartphone sales are currently growing at
a 9 year low
of 12%, according to IDC. And the market has become so mature, according to Bill Whyman, senior managing director at researcher ISI Group, that even a new version of the Apple iPhone won't be enough to give a boost to the market.
With Samsung's shares dropping 17% since June, and speculation that the company has reduced orders with vendors for components related to the
Samsung Galaxy S4
, there is a feeling that even flagship models won't be able to help smartphone growth get back on track. And with
all signs pointing to a low-priced Apple iPhone for emerging markets
, it would seem to be a clue from Apple that the low hanging fruit has all been picked.
"The higher-end portion of the smartphone market has hit a wall due to high penetration rates and high price points."-Brian White, analyst, Topeka Capital Markets
Most of the excitement these days is related to the next big thing, which looks to be wearable gadgets.
Google Glass
and
the rumored Apple iWatch
have many early adopters licking their lips in anticipation. But don't misunderstand what these analysts are saying. With smartphone specs constantly on the rise, the combination of hardware upgrades and adding more converts from featurephones is sure to keep smartphone growth on the rise. But while more smartphones could be sold in the years ahead, the percentage growth in such sales seems to have entered the declining stage.
source:
Forbes