Samsung Galaxy S8 price and release date
20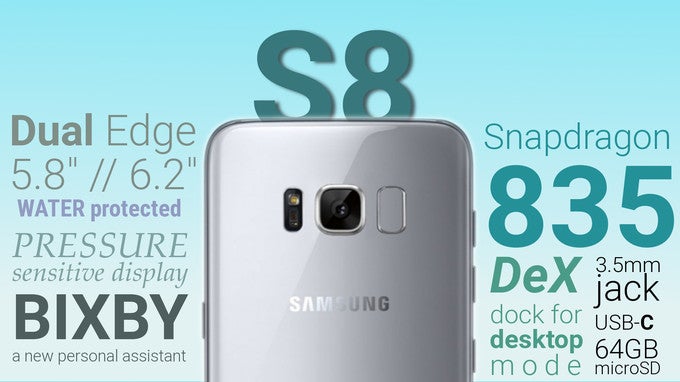 The Galaxy S8 shapes up to be
the
most technically advanced Android phone of 2017 as Samsung is hoarding orders of the latest and most powerful Qualcomm Snapdragon 835 system chip and it's stepping up its battery security testing to make it a truly safe handset.
But when can you get it?
The
Samsung Galaxy S8
release date is allegedly set for April 21st in the United States, according to information that comes from well-informed sources speaking for VentureBeat. Samsung will announce the phone nearly a month prior to that at an official event on March 29th.
The Galaxy S8 is expected to come in two models, both curved on both sides and both featuring bigger displays than before that will also be narrower and taller, with a new aspect ratio and a nearly bezel-less design.
A bezel-less, curved screen design will make possible the larger screens on the Galaxy S8
The S8 is said to come in a 5.8-inch screen fitting in a body nearly the size of the 5.1-inch S7, while the other S8 model will be a 6.2-inch one that is closer to the physical dimensions of the S7 Edge.
We do not expect huge changes in the Galaxy S8 prices: the official retail price for the Galaxy S8 is expected to start at around $650 to $700 for the base model, while the larger version of the phone will likely be priced at between $750 and $800. Keep in mind that some leaksters have said that this year Samsung might actually charge a bit more than before for the Galaxy S8. Given the radical redesign and the all-screen design, if there ever was a time for a price hike, this is as good as it gets for Samsung.