Samsung Galaxy S5 size comparison: the size evolution of the Galaxy S series
22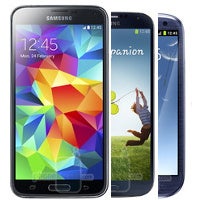 The Samsung Galaxy S5 is Samsung's fifth-generation Galaxy S device and a lot has changed since then. Do you remember the first Galaxy S that launched back in 2010? It came with a huge for the time 4-inch screen, can you imagine how different standards were back then?
The evolution in size alone is remarkable - the Galaxy S series has been growing larger every year. The biggest jump happened in 2012 when the Galaxy S III quickly made the jump from the 4.3-inch screen on the S II to a whopping 4.8-inch one. Not just that, it was also the first one in the series to come with a 720p HD display. All of that came with a bump in specs and other features as well.
To help you better understand how the Galaxy S series evolved, we are comparing the new S5 with all its predecessors right below. Take a look.