Here is a Samsung Galaxy Note 9 S Pen vs Note 8 S Pen picture
4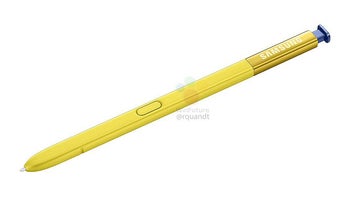 There's probably not quite a lot of things that we already don't know about the upcoming
Galaxy Note 9
flagship, but that's mostly Samsung's fault, which has already started to promote it by revealing or confirming some of its specs.

As far as the pictures with the upcoming phone go, there are probably few things that would be more interesting than all the
Galaxy Note 9 images
that have been leaked until now. Still, since we often post "vs" articles where we compare various smartphones, the image that we found today perfectly fits the formula.
The Samsung Galaxy Note 9 S Pen is an improvement over the previous model, according to the latest rumors, but there's not much changed design-wise. A picture showing the Note 9 S Pen vs
Note 8
S Pen clearly confirms that they look pretty much the same when it comes to size and layout.
The only subtle change that can be seen in the picture is the slightly more rectangular form factor of the Note 9's S Pen in comparison with the Note 8's. If that's true, it means the Note 9's S Pen won't fit in the Note 8's S Pen slot. Other than that, there don't seem to be any other major changes.
We've already been able to learn quite a lot of things about
Note 9's S Pen new features
, so we can't help but wonder if Samsung has any surprises for us next month when the smartphone is set for an official unveiling.