Samsung Galaxy Note 10.1 (2014 edition) passes through the FCC
7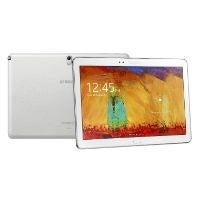 Earlier today, we got more information on the
Samsung Galaxy Note 10.1 (2014 edition)
release
window and pricing
; and, as we know, before a new mobile device can be released, it has to pass through the FCC. It looks like Samsung is getting that certification out of the way early, because a new filing says that Samsung's new flagship 10-inch tablet has been approved by the FCC.
There isn't a whole lot of new information to be found in the filing. This is for the Wi-Fi only model number SM-P600 of the tablet, and the only new piece of hardware in the device that we didn't know about is an ANT+ sensor, which is used for collecting data from bio-trackers. So, the ANT+ sensor could be used with S Health devices or even the Galaxy Gear, which includes a pedometer.
Otherwise, this is the same 10.1-inch 2560x1600 device with 3GB of RAM, 802.11ac, NFC, Bluetooth 4.0 LE, and S Pen support. The one question that remains is whether the U.S. is getting the Exynos 5 Octa SoC, or the Snapdragon 800 powering the tablet.