Samsung Galaxy Beam helped the trapped Chilean miners preserve sanity
1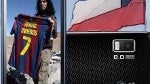 You know the story of the 33 Chilean miners trapped underground while they were digging for copper and gold to feed the capitalist's world ever increasing appetite for money and gadgets, right? Sure you do, unless you have been trapped in another mine at a place where CNN doesn't have reporters.
Well, what do you know, about 70 days later all those folks were taken out in a narrow cage to start the standard we-are-suing-and-writing-a-book procedure. What caught our gadget-obsessed attention, though, was the tiny fact that a Samsung Galaxy Beam projector phone was one of the items sent down to the trapped Chilean miners. The Chile-Ukraine friendly soccer game was preloaded on it, and a pep talk message from the mining minister kept the spirits up.
Now we have two questions - how long did the 1800mAh last, and will the heroic handset still be on the back burner of Samsung's
Froyo update
plans after this?
source:
SamsungHub