Samsung & NVIDIA announce that the Samsung Galaxy R is headed to Europe & Asia
4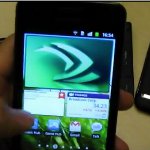 Already, we've managed to get a small
preview of the Samsung Galaxy R
, but now we're finally getting an official word from both NVIDIA and Samsung in regards to its
availability
.
Actually, NVIDIA and Samsung announced today that the Gingerbread powered smartphone can now be purchased in
Sweden
– though, it's going to be spreading out to other
European markets
as well. Additionally, the
Asian markets
will no doubt be graced with this latest member in the beloved Samsung Galaxy family.
Naturally, the handset itself appears to be out of the ordinary with Samsung's usual Galaxy products seeing that it features a 4.19" WVGA Super LCD display and an NVIDIA Tegra 2 chipset. Still, those two specific items shouldn't alarm loyal customers since it's still classified as a high-end smartphone that should fit well with the family. Other features include 720p video capture, 1090p full HD playback, 8GB of internal storage, and a microSD card slot.
Unless you really want to be the first to sport this one, then you'd better make sure to get yourself into Sweden so that you can pick one up today. But if not, then you'll simply have to make due until it arrives in other markets – in the meantime, you can watch the lovely video about the handset below.
via
Android Central