Root Metrics app aims to crowdsource creation of a true carrier coverage map, once and for all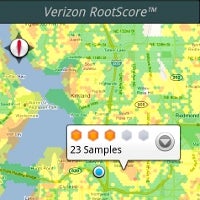 By the end of the year,
Root Metrics
aims to have collected enough data from its Android and iOS apps, so as it can have the most detailed and unbiased voice and data coverage map for 130 major markets in the US.
Right now there is already a lot of well-visualized data on its own website, but with the help of Android and iOS apps the company hopes to crowdsource data collection, and merge it with what the readings from its own hired guns, scouring the city streets with cell phones from the major carriers to measure coverage and signal strength.
"
We track signal strength, dropped calls and data throughput speeds by capturing millions of real-world results directly from participating mobile users' devices, like yours. Then, using our analytics engine, this data is brought to life through easy to understand maps and ratings that show the true picture of each carrier's performance down to the most granular levels.
", says the app description.
The Root Metrics app currently doesn't collect data in the background, but the company says users asked for this feature back, especially while traveling, so as they can set and forget the app, while it is doing its noble cause. The more people install and use the app, the merrier, says Root's CEO. The map uses green color to visualize the best coverage of your carrier in given location, and black for the worst. Hopefully this picks up steam fast, and we have the true coverage map of the major US carriers by the end of the year, as intended.
source:
RootMetrics
via
PCWorld