Report: MediaTek working on crazy 10- or 12-core processors
37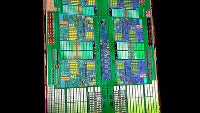 Qualcomm used to ridicule MediaTek's octa-core processors, claiming that what smartphones need are better, not more, cores. In spite of that, Qualcomm's 2014/2015 chipset line-up includes the likes of the mid-range Snapdragon 615 and the high-end Snapdragon 810, both of which feature eight cores. Whether because on the insistence of the marketing team or not, Qualcomm
did
follow into MediaTek's footsteps.
But if you thought that eight cores is as crazy as this race is going to get, then a new report, highlighted by Chinese
MyDrivers,
cites a supposed insider, who claims that the Taiwan-based chip maker might release 10- or 12-core processors. Not only that, but, apparently, if all goes according to plan, we could see those marvels of mobile technology before the year is out, which would be quite the achievement – these things usually take years of development, though MediaTek could have been working on them in secrecy.
Obviously, considering the fact that many apps are unable to take advantage of even
four
cores, let alone ten or twelve, it'll be interesting if MediaTek can actually justify yet another seemingly insane jump in core count. In the meantime, check out what Qualcomm thinks about MediaTek's octa-core chips in the video below.