Rayman Jungle Run arrives on Android
1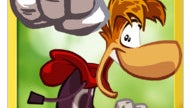 If you are looking for a fun and pretty game to play over the weekend,
Raman Jungle Run for Android
comes just at the right time. It's easy to pick up, fast-paced and easily ranks among the best looking mobile games, but mastering Rayman's jumping and running takes some time.
Unlike previous Rayman games on mobile device, Rayman Jungle Run by Ubisoft Entertainment
is not a port, but is instead tailor-made for the phones and tablets.
Controls are smooth and convenient, and the whole world just flows smoothly. Rayman Jungle Run arrived earlier on iOS, but today it is also landing on Android. The price is set at $2.99, and that seems like a reasonable thing to pay for such a gorgeous game, don't you think?
source: Google Play