Ray Ozzie and other Microsoft alumni join HP board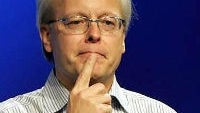 HP has not had a lot of news coming through on the mobile device side of things, although we did see a mysterious HP smartphone pop up earlier today. This bit of news may not bring HP back to relevance, but it seems like a step in the right direction at least. The company has added a few members its board, including Mr. Ray Ozzie, formerly of Microsoft.
Ozzie is one of the pioneers of Silicon Valley and has roots going back to Lotus Notes before Lotus was even acquired by IBM. Ozzie also founded Groove Networks, which was purchased by Microsoft in 2005, and that product eventually became Microsoft SharePoint Manager. Meanwhile, Ozzie became a Chief Technical Officer at Microsoft, and took over as the Chief Software Officer when Bill Gates left the company. Ozzie left Microsoft in 2010, and has kept a low profile since then, but he was announced to be joining the HP Board of Directors today.
In addition to Ozzie, HP named Robert Bennett, the former CEO of Liberty Media, and James Skinner, the former CEO of McDonald's and current chairman of drugstore company Walgreens, to the board. HP still has not found a chairman for the board though.