RadioShack reduces the price of its existing iPhone models & offering $150 trade-ins
7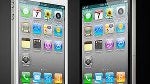 Continuing to show signs that
retailers are anticipating something
,
RadioShack
is the latest big box retailer to reduce the price of its existing iPhone models. Again, the move just goes to show that retailers are going to do whatever they can to clear up inventory, so that when the replacement model comes forth, they won't be strained with any overstock of existing units.
Currently, RadioShack is now discounting all existing models of the iPhone by
$30
– thus, bringing down things like the 16GB version to $169. Although it's not a severe reduction, some might actually be tempted more by the retailer's
trade-in offer
that can get customers as much as
$150 off
the price of an iPhone 4 if they trade-in their iPhone 3GS model. Without a doubt, that isn't too bad because it can bring the 16GB version to $19 – with the 32GB one at the still reasonable price of $119.
Actually, RadioShack reduced the price of some iPhones all last week, but not all models received a discount. And with this current promotion, it's going to continue until
August 20th
– meaning, it's anyone's guess still if the next-generation iPhone will debut in September or not.
via
Electronista