Target is expecting to reduce the price of its iPhone models starting tomorrow?
31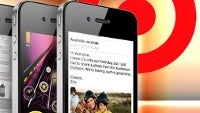 With all the rumors of potentially seeing a
September launch time frame with the upcoming next-generation iPhone
, consumers will soon find themselves torn in whether or not they should wait out for the new model. Of course, price drops to existing models will eventually become more profound, but it seems that
Target
might be jumping the gun a bit earlier than others.
Specifically, we received some news from a tipster that indicates price drops are coming to Target's selection of current iPhone models. Based on the information we're seeing, the new pricing structure will begin to go in effect starting
tomorrow, July 31st
. So if you're not planning on picking up the next iPhone model, Target's offering might seem appealing to some people – especially when you'll be saving some cash along the way.
From what we're told, the iPhone 3GS is going to be selling for $19.99, with the AT&T and Verizon 16GB iPhone 4 for $149.99. Meanwhile, the 32GB iPhone 4 model will be selling at $249.99 for Verizon's model, but for some strange reason, AT&T's version isn't budging at all and will remain at $299.99. Naturally, the pricing is valid for those that are willing to sign a 2-year contract and sleep knowing that they'll need to hold onto it for some time. Although they're nothing dramatic, it does point to the notion that we're nearing a launch with the new model.
As we continue to push towards the end of summer, there is no arguing that other retailers and sellers are going to be offering price reductions to existing iPhone models as well to get rid of stock – and more importantly, make room for the new one. So if it's good enough for you, then strolling into your local Target store might be something you add to your to-do list tomorrow. We'll soon find out if it's going to happen or not.
**Updated**
Aiding in saving you yet more money during the process, we're told that Target is also going to be offering a
trade-in promotion
for the iPhone 3GS, which can deduct up to an additional
$100 off
the cost of a new iPhone 4. Basically, you can trade-in your existing iPhone 3GS and possibly get away in only having to spend $49.99 for a brand new iPhone 4 model. Also, loyal Target shoppers can still shave off another 5 percent off the cost by using their Target branded Redcard credit card.
Thanks to our anonymous tipster!