RIM fires its two drunk executives that caused Air Canada flight u-turn at the North Pole
15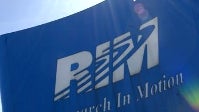 The two RIM execs - George Campbell and Paul A. Wilson - who
got drunk on an Air Canada flight to Beijing
have been discharged from the company.
They caused such a stir during flight, that the crew was forced to make a U-turn at the North Pole and bring the plane back to Vancouver where the guys were arrested after being handcuffed by the crew and passengers to their seats. The judge ordered them to pay 35, 878 Canadian dollars each to the airline, and placed them on
probation
.
Needless to say, RIM was not happy with the developments and issued an official statement condemning the behavior, and saying that it does not comply with the company's integrity, so the execs were fired.
To add insult to injury, RIM's Indonesian exec is also under investigation by local authorities because of
the public turmoil caused by a 50% discount offer on new Blackberries that we reported about first
, and which sent several people to the hospital. RIM says it is cooperating with the police on the matter and looking at what went wrong with organizing the promotion in the country where Blackberry is the most popular smartphone with almost 10% of RIM's worldwide users.
source:
TheGuardian