BlackBerry Bold 9790 launch event in Jakarta turns ugly, tens of attendees injured
18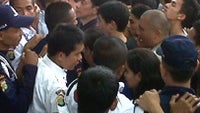 BlackBerrys are big in Indonesia. So big that when you walk down a busy street in Jakarta you see pretty much everyone around you holding one of these ubiquitous handsets. But the popularity of the 'Berrys showed its grim side today after the launch event of the latest member in RIM's lineup turned ugly.
Indonesia was chosen to be the first country to get the
BlackBerry Bold 9790
smartphone, and a special event at the Pacific Place shopping mall in Jakarta was organized to commemorate the event. And to make things even spicier for the impatient 'Berry fans,
the first 1000 people to purchase a Bold 9790 were to receive a 50% discount
.
The queue started forming as early as the previous day and had grown to well over a thousand people by the time the event was about to kick off. Those who came early enough to qualify for the 50% discount were given a red wristband. However, rumors began circulating early Friday morning that the BlackBerry Bold 9790 had already sold out, which caused the frustrated hoards of 'Berry fans to break the barriers in a desperate effort to get their hands on the handset.
As a result, tens of people were injured, some of which lost lost consciousness on the scene. Ambulances were rushed to the site and about 200 police officers were dispatched to restore order. Eventually, the event had to be closed prematurely for the people's own safety.
Thanks for sending this one in!