RIM announces their BlackBerry Trade-Up Program for the US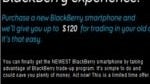 For those die-hard BlackBerry users out there, RIM's new
Trade-Up program
might seem appealing if you're the type to constantly upgrade to the newest and latest handset from RIM's camp.
RIM announced today that they're now offering their BlackBerry Trade-Up
program for the US
which enables you to trade your existing or old BlackBerry handset for discounts toward a new one. Now don't go start rummaging through your much older BlackBerry handsets collecting dust in the basement. That's because they're only accepting certain models, while the value you receive for trading them in will vary according to their condition. So that beat up one that's cracked might not even get you anything. However, RIM will offer you approximately
$75 to $120
for your old handset.
Definitely a useful thing to know for those hardcore BlackBerry users out there, this trade-up program can be beneficial for those who want to save some money on buying a new model.
source:
RIM
via
Phonescoop