RBC revises Apple stock price target to $525 in anticipation of iPhone frenzy results
10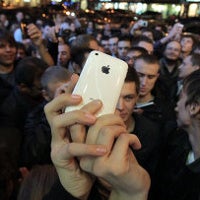 Investment bank RBC
joins other analysts that have upped their predictions for a record quarter for Apple and now places its target for Apple stock at $525, up from $500. RBC expects Apple to report results beating expectations on Wall Street and still give a positive outlook for the first quarter of 2012 (Apple's second fiscal quarter).
RBC analyst Mike Abramsky wrote the note "iPhone Frenzy: Expecting Strong Q1 Results" to investors saying that the bank expects Apple to report $40.2 billion in revenue and $11 earnings per share. The previous estimate said revenue is to be $38.6 billion with EPS at $10.
The biggest reason for the more optimistic forecast is iPhone sales, which have been outstanding. Apple has sold out of iPhones in many places and there was
"unprecedented iPhone sell-through."
His next quarter guidance is also better than the average Wall Street projections - Abramsky forecasts $32 billion in revenue and $8 EPS, while analysts agree on $31.8 billion and $7.94. RBC projects iPad sales for the Holiday quarter at 13 million.